NEW COLLECTION at BOSS Store in Departures
For the Spring/Summer 2017 season, the modern BOSS man focuses on styles that are light, versatile, tailored and offer comfort at all times, presented in two special capsule collections:
The Wardrobe Staples Capsule consists of the essentials that every man needs in his closet, offering an effortless way to build the foundation of a modern wardrobe and create a refined look.
The Travel Line Capsule returns with a new Spring/Summer 2017 collection, created for the modern man on the move. Tailoring is defined by performance fabrics and smart constructions. Suits and jackets are crafted from natural wool with mechanical stretch for ease of movement and crease resistance, while internal constructions are stripped back and lightweight.
To ensure that the BOSS man is fully prepared for wherever his journey might lead, outerwear gets the travel-ready treatment. Reversible 2-in-1 jackets offer more than one look – the ultimate clothing item for travelling light – and new designs fully pack away into themselves to transform into a pillow for long-haul journeys.
This season's collection offers more choice than ever before, from tailoring to sportswear. The result is guaranteed style while you're on the go, whether you're travelling for business or pleasure.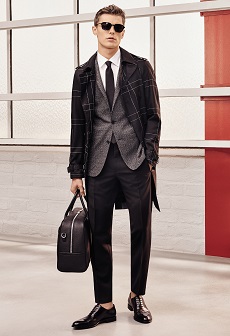 Back to Overview